Kickoff Dinner with Devin White Approaching Quickly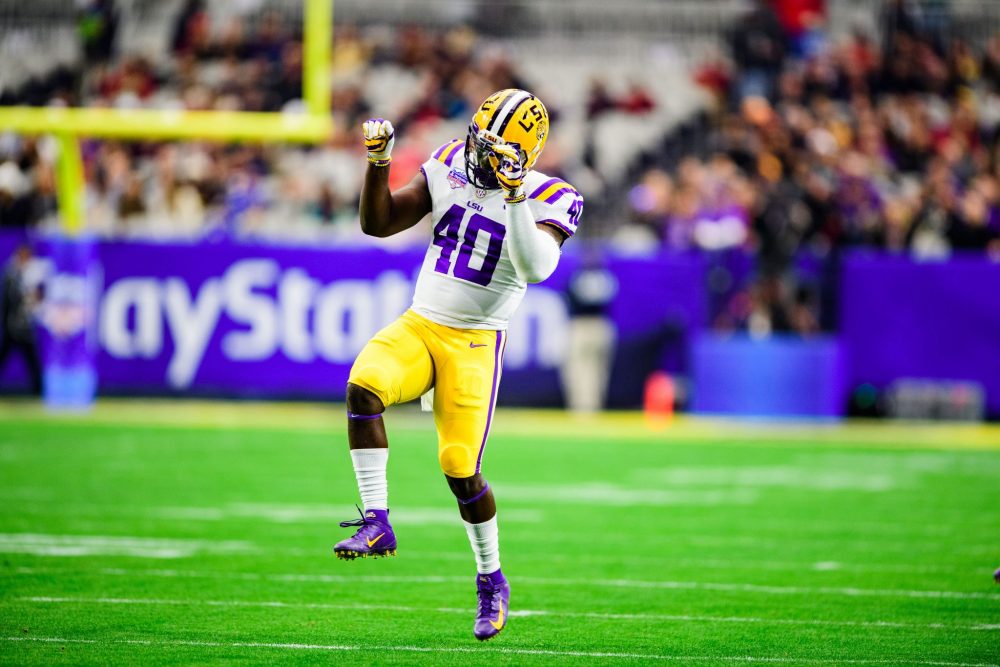 The annual Walk-On's Independence Bowl Kickoff Dinner is just over three weeks away, and tickets to see former LSU star and Tampa Bay Buccaneers linebacker Devin White speak are expected to start flying off the shelves.
The event is set for Thursday, July 11 in the Captain Shreve Ballroom of the Shreveport Convention Center. Individual tickets for the Kickoff Dinner are $50, while tables for eight are $400 apiece. Tickets can easily be purchased online at WalkOnsIndependenceBowl.com or by calling the Walk-On's Independence Bowl office at (318) 221-0712 or toll free at (888) 414-BOWL.
Doors for the Shreveport Convention Center open and a cocktail hour begins at 5:30 p.m. The buffets will open at 6:00 p.m., and the program will begin at 6:45 p.m., with a Q&A between White and "Voice of the Tigers" Chris Blair and a brief Q&A with the audience at approximately 7:15 p.m. 
The Kickoff Dinner will also feature a raffle of multiple items, including two tickets to the New Orleans Saints game against Devin White's Tampa Bay Buccaneers on October 6 and footballs signed by White and Drew Brees. Raffle tickets will be sold for $1 apiece throughout the duration of the program.
The Walk-On's Independence Bowl Kickoff Dinner kicks off the Independence Bowl Foundation's calendar of community events, which is highlighted by the USTA Junior Tennis Classic in August and Kickoff K's 5K and Half Marathon in September. For more information on all the Independence Bowl Foundation events throughout the year, visit WalkOnsIndependenceBowl.com.
ABOUT THE WALK-ON'S INDEPENDENCE BOWL:
The Walk-On's Independence Bowl, the 11th-oldest bowl game, will play its 44th-edition on Thursday, December 26, 2019 at 3:00 p.m. CT at Independence Stadium in Shreveport, Louisiana. The Duke Blue Devils won their first Independence Bowl in 2018, defeating the Temple Owls 56-27. The Walk-On's Independence Bowl enjoys primary conference agreements with the Atlantic Coast Conference (ACC) and Southeastern Conference (SEC), as well as backup agreements with the American Athletic Conference (AAC) and Conference USA (C-USA). The Walk-On's Independence Bowl and Independence Bowl Foundation are prevalent in the Shreveport-Bossier City area throughout the year, hosting events to help enhance the economic impact and growth of our community. For more information, visit WalkOnsIndependenceBowl.com or follow the bowl on Facebook, Twitter and Instagram at @IndyBowl.
Independence Bowl Foundation
P.O Box 1723, Shreveport LA 71166  |  401 Market Street, Shreveport, LA 71101  |  318.221.0712